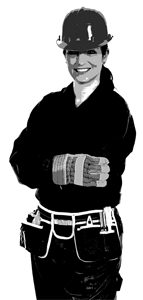 Education, training and work
Apprenticeships
Camden Apprenticeships service is open to you if:
You're a Camden resident, former Camden secondary school student or Camden care leaver
You're aged 16 or above
Many employers now offer apprenticeships with flexible hours to suit your outside commitments, including studying or family life. Training providers also offer support for those with additional needs.
Hear Jerrie Andrews' story of becoming a Camden apprentice and how her career has taken off since she did so.
Hear Olu Ayinde's story of becoming a Camden apprentice and how it got his career started.
King's Cross Construction Skills Centre
An apprenticeship with King's Cross Construction Skills Centre (KXCSC) means you'll spend part of your time studying and the rest on construction sites, gaining practical experience and applying your skills in the real world of construction.
We offer a variety of training courses available free to unemployed local residents.
At KXCSC, in partnership with our training provider College of North West London, we offer construction training:
Pre-apprenticeship level 1 in multi-skills
Level 2 diplomas in plumbing, electrical Installation, carpentry and joinery
The training is available to Camden and Islington residents aged 16 to 18 and 19 plus.
In addition to the above courses, KXCSC helps 16 to 24 year-old local residents get into apprenticeships in a variety of trades from steel fixing to site management and many more, in and around Camden and on the new King's Cross development.